10-20-2014: I will be performing with Lion-Hearted  at Phoenix (Hoboken NJ) on Halloween Night at 9:30 PM.
10-08-2014: I will be performing with Lion-Hearted  at Olive's in Nyack New York at 10:30PM.
10-06-2014: Gavin Guntner's track "La Ville Lumiere", which I played on, was featured on "The Independent Music Show" on 10/4 - the Podcast can be heard here.
09-15-2014: I will be performing with Lion-Hearted  at  ROXY & DUKES ROADHOUSE in Dunellen, NJ on Friday 9/26 at 10:30PM.
09-07-2014: Today I begin recording the next album with Lion-Hearted  -"SP2: Roar The Loudest! (the sequel)" - this will be recorded analog -- tape first. No electronics, no studio magic, just 3 guys and their analog instruments.
08-28-2014:  Gavin Guntner new album "Making Tracks" is out now - the final product is impressive!  Amazing instrumental guitar work. Links to the album will follow.
08-09-2014:  I will be performing with Lion-Hearted at Crossroads in Garwood, NJ  on Saturday, August 23rd at 9pm. Also, I'll be performing with them at Roxy & Duke's Roadhouse on September 26th.
07-19-2014: LION-HEARTED will appear in the November/December issue (#66) of FIREWORKS magazine in the UK with a review/interview, and one of our tracks ("Ugly") on the accompanying CD sampler to that issue (due out in mid October)!
06-29-2014: Recording the second album with Lion-Hearted  ,"SP2: Roar The Loudest! (the sequel)", this will commence in the first week of September at MOZART STUDIOS in Clifton, NJ.
06-03-2014: ANNOUNCEMENT -- The 10 songs from the Lion-Hearted debut album, "SP1: Those Who Roar Last..." have officially surpassed the 40k-play mark on Jango Radio!!! With over 40,000 listens all over the world in the past 15 months, we have achieved an average weekly "pop score" in the 80's (on a scale from 0 to 100).
05-23-2014: Finished recording the final tracks for Gavin Guntner for his next release.

04-26-2014:  I will be performing with Lion-Hearted at Crossroads in Garwood, NJ  on Saturday, May 31st at 9pm!
04-23-2014:  Lion-Hearted are proud to announce our new cross-promoting partnership with New York City's CONCRETE JUNGLE Clothing Company.
04-15-2014:  Lion-Hearted "GOES TO ELEVEN"!  as they reach 1,100 fan sign-ups on Jango Radio!
04-10-2014:  Lion-Hearted will be featured in the July/August (#64) issue of FIREWORKS magazine in the UK...  Details to follow.
02-12-2014: I will be performing at Crossroads on March 1st with Lion-Hearted at 10 PM.
02-03-14: Finished recording "Shoreline" and "The Labyrinth" for Gavin Guntner for his next release.

01-03-14: Finished recording "Prussian Blue" and "Villes Des Lumieres" for Gavin Guntner for his next release.
12-26-13: Lion-Hearted  is now working on ideas for a new video and we have about 4 or five new songs for the next release.
12-11-13: Released an album with Lion-Hearted  available at iTunes, Amazon, CDBaby and etc.
10-31-2013: I will be performing with Lion-Hearted  at CrossRoads  on November 14th at 8:00 PM. We will be opening for the national act "Prophet".
08-23-2013: I will be performing with Lion-Hearted  at The Bitter End on Oct. 4th. at 10:30 PM. This will be our NY CD release party.
08-20-2013: I will be performing with Lion-Hearted  at CrossRoads  on September 21st at 10:00 PM. This will be our NJ CD release party.
08-10-2013:  I will be performing with Apophis on Saturday, September 7th at the Poconos Music Fest in Brodheadsville, PA at 6:00 pm.
08-04-2013: I will be performing with Lion-Hearted  at Sullivan Hall in NYC  on August 23rd at 10PM sharp (be there 9:30) - details for the show can be found at the Facebook Event - https://www.facebook.com/events/640513789306625/ and advanced tickets can be had from TicketWeb
07-05-2013: I will be performing with Apophis on Saturday, July 27th at Dingbatz  (620 Van Houten Ave. Clifton NJ • 973-471-1145) - 10:00 PM sharp.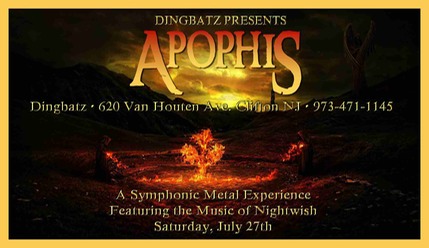 07-01-2013: I will be performing with Lion-Hearted  at "Rockin' The Pond"  in a free concert at Franklin Pond in Franklin, NJ (in the Sparta/Hamburg/Stockholm area of Sussex County) at 6pm on August 3rd.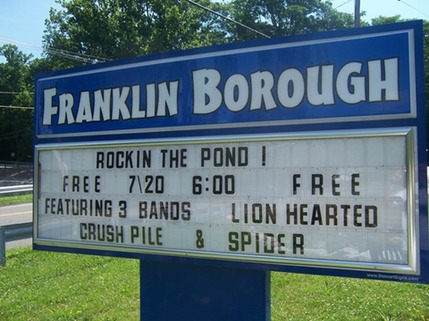 06-20-2013: Finished recording "Sea of Tranquility for Gavin Guntner for his next release.
06-07-2013: Starting the mixing process for the  Lion-Hearted next release in 2 weeks
06-01-2013: Recorded "The Painter part II" for Gavin Guntner, which will be on his next release
05-10-2013: Playing tonight at Dingbatz NJ with Apophis - a night of symphonic metal....

05-05-2013: Just finished up recording tracks for  Lion-Hearted that will become our next CD

04-10-2013: Just finished up recording tracks for Gavin Guntner's upcoming release - he's a great solo guitarist and songwriter. The CD is being mastered right now.
02-25-2013: My band  Lion-Hearted  was finalized on CDBaby and is now available for purchase through our site and in  iTunes and other digital distribution stores worldwide. We are also on internet radio via RadioPlay.

03-Dec-2012: Completed all tracks for  Lion-Hearted for our first release and we just finished mixing our first song 'Ear to the Ground". Now it is time for strategy and how we will proceed. One thing I can say: it is it's own type of music for sure, that's a comment we get from many, we just call it hard funk. 
02-Dec-2012: It's official, I just sold my Roland VDrums to a gentlemen in NY. In some ways, I'll miss them, but I'm happy to be all acoustic right now, I may get something small in the future for use with VST's so I can do more quick MIDI or audio recordings for others.
18-Oct-2012: Completed the 6th song for up-and-coming solo artist Gavin Guntner, more songs are coming that I will record from my home studio that will be mixed down later by Gavin.
14-Oct-2012: Audition for an accomplished Opera singer for the band Apophis went very well, we consider her to be the forefront for the part but further auditions are being held this month
10-13-2012: Today I begin recording with Lion-Hearted for our first 5 originals, all the preparation is done, now it's just a matter of doing the best we can to make our songs sound proper.
10-09-2012: I had a great rehearsal with  Lion-Hearted , which was mainly done in preparation for recording 5 of our originals at Clear Cut Studios this Saturday. Once we are done with the production and legalities, the songs will be available through download sources and/or CD. 
10-06-2012: Made a new logo for  Lion-Hearted based on the medal handed down from Marc Gambino's Grandfather - it was photographed several ways and digitally transformed to show L H in the top corners. This is now in the banner of this site. The Facebook and Reverbnation pages were changed as well. 
05-Oct-2012 Site for the band Apophis was created and uploaded The band has created new web pages on Reverbnation and Facebook, adding in prior content from recorded demos, videos and imagery.
09-23-2012: Last night's show with Lion-Hearted was wonderful, it was a full house! Thanks to everyone who came and made it such a special event for us. We are now in the process of discussing next steps both in recording and future shows. There will be more picture and video updates to the site in the coming days.
09-12-2012: Added a new page for  Lion-Hearted  on ReverbNation - it is cross-linked to our other pages and should be a decent marketing tool.
08/12/2012 - Lion-Hearted will be be playing Mexicali Live on September 22nd, tickets are available directly from us or through their site. If you are interested in tickets, please contact us at  lion.hearted.nj@gmail.com - you can go to the Facebook event page at   https://www.facebook.com/events/124076044399784
07/13/2012 - As of today, we have recorded about 20 song ideas and will be solidifying them in preparation for a late Sept. show. I am also currently working on drum tracks at my home studio for guitarist Gavin Guntner for his 4 song EP and extra track.   
07/03/2012 - Lion-Hearted is now complete. Pete Pineyro has joined the band as lead guitarist. 
05/05/2012 - Working with Marc Gambino on a new band called Lion-Hearted. Marc is the bassist and vocalist. We've been busy setting the web-site, creating the logo, arranging a set-list and of course, auditioning guitarists. Once we have out "main" guy we will being the audition process for keyboardists. Our sound will be hard driving funk - something between the Red Hot Chili Peppers, Whitesnake, Black Sabbath, Tower of Power (rhythm section), and Buddy Guy. It seems like an unlikely combination but it actually works.
04/30/2012 - I will be gearing up to perform with Rush tribute band "Gracie under Pressure", which is Bruce Gatewood on guitar, Jon Demichael on bass and keyboards and Lisa Leppard on vocals. We performed together back in OCtober of 2011 for the Red Sector reunion. This time we will be doing only Rush songs, very intricate ones I might add and plan to do 2 shows somewhere in July and August of this year.
04/16/2012 - I will be working on trimming down the material I've worked on so far to just include ambient electronic music that I will release on iTunes soon. MY focus has shifted to playing in bands and has become very busy, My time is very limited when it comes to writing and arranging, plus I really enjoy playing acoustic drums in a live setting much more now. It's very physically demanding and challenging to play the material I'm now doing for others. 
12/27/2011 - Finalized the acoustic drumset, recorded a full day of drumming with Mark Mari and Danny Lavecchia on a project we are calling PIP (Partners in Percussion) - it's three drummers making songs using acoustic and electronic drums. I'm finalizing the rough recordings now and we will be recording more organized tracks next month. The main engineer at Hellhound studios filmed a little bit of our playing which you can find on YouTube under the channel MRJDAQUI ( http://www.youtube.com/user/MrJDAqui. ).
11/27/2011 - Completed the acoustic drumset, now just waiting on one more piece and possible some additional Zildjian K/A's. Working on a recorded version of Delilah for Frank Oquendo and assembling the last bits to make two releases for the downloadable section.
10/25/2011 - The Red Sector show went over well. HD videos of 10 of the songs can be found at http://www.youtube.com/user/MrJDAqui. Of course, this type of music is not something I'm used to playing, but it was certainly fun and challenging for a night. From this point forward, I will be concentrating on finishing the next release on iTunes and working on more fusion or world music, and some Jazz studies.
09/23/2011 - After a long hiatus, much activity: 
For starters, I just completed and uploaded a new song called "Halluze" to TuneCore which is a first cut at improvising all instruments separately. First I made piano, drums and bass parts, then I did improv trumpet parts using my iPad apps in a truly free-form session. Tweaked here and there and what you hear is what you hear, lumps and all. (will be on the iTunes release by end of year).
Second, my old band from 27 years ago, Red Sector, will be playing a one-night-only show at McFadden's Pub in Bayonne, NJ on Oct. 22nd at 9:30 PM - I've been doing the prep work, new setup and new drums but plan to be 95% electronic (using my TD20S VPro set) with some rare china cymbals, timbalitos, and the best drum of all: the 1948 Gretsch snare drum that my daughter painted. I "sealed" her artwork and had the drum bearing edge created, snare bed cut and hardware assembled at Drum World in NYC (best drum techs/craftsman I know). Now, I'm just relearning about 26 songs from the past, and planning to do a few rehearsals with the guys soon. 
Third and Final, I'm planning on the last few touches on all the songs I've done so far, that I plan to include on my upcoming iTunes release, and will remaster them to put back the dynamics that may have been missing from the first mastering (thanks to Ableton's presets). Nothing will be changed, but the overall sound will be warmer and the choice of songs will end up being softer.
05/28/2011 - Just uploaded the song gasparyan_tech_soca.mp3 to the downloads section of my site in a new folder "music" which will now hold all songs for free downloads. This song was done 10 years ago with a sample from the famous Armenian Duduk master Djivan Gasparyan. I took a complete piece and played a caribbean/soca beat/solo over it with some synth parts and percussion.  I have also completed another new song that is an electronic Jazz inprov piece that I will shortly upload to Tune Core in preparation for iTunes inclusion. 
05/04/2011 - Just put the final touches on a song called "Truck". Basically, it's and industrial track where the main percussion parts were played on the arm-rest of my SUV while the microphone of my MacBook pro was on and just hit record in Audacity. I put some filters on the recorded part and added tracks around it. Once again, not something that will be popular, but it was fun.
04/29/2011 - Just finished a track called "Punished". It's mainly a disruptive industrial track that I made with industrial samples (single sound) that were incorporated into a piano roll and midi part. Then, I programmed some drum parts and played an electric guitar part using the iPod touch App called ThumJam - this was lots of fun. It's amazing how this type of technology can make a virtual instrument into a real live performance, full of dynamics and feel. This track is being uploaded to TuneCore right now and will be part of the next release coming soon. Once again, this track won't be popular and it is not over-engineered. It's one-take and no editing like the others.
03/24/2011 - The track "One Family" has been remixed after adding a tribal flute solo with ThumbJam (great app). I purposely did it in one take, no filters or editing and mixed it with the main tracks, rendered to disk from Ableton and uploaded the final file to TuneCore. Mastering on 5 more tracks is all that is left, then it gets posted to iTunes.
03/18/2011 - Recently completed a track called "One Family", which was an older song done using raw drums. Now it's a tribal song with heavy metal guitars, hawaii vocal folk (breath perceussion), classic flute and some industrial sounds. It's not going to be popular, probably not even liked, but that's my intention - not concerned with what others are doing or being "popular".  If a handful of people like it, that's good enough for me.
03/07/2011 - Just uploaded the main tracks that will be on the "One Tribe" release to TuneCore. Also, I just finished the artwork that will be the cover for this release. It is a combo of facial parts from asian, european, african and latino faces sectioned  into one with a background from sections of a Thai, African, and South American jungle. Finally, I added color dumps into the jungle sections and applied a radial blur effect from 'Fireworks" - the graphics package from Adobe (old software but effective). I made some new classical/latin fusion tracks with Morpwhiz that I will be adding drums to in the next week or so - all with one take and no editing, completely raw. I anticipate the whole thing begin done and on iTunes in late April or early May, at which point, I'll be working on new material.
02/03/2011 - Uploaded electranglapor (East Indian style), natural companion, and free_2007 to the TuneCore site. Once I have "One Tribe" wrapped up, I'll finalize the release and within a few days it will be on iTunes. I don't expect it to be profitable, nor do I care, but it will be out there. According to stats, previous stuff, good or bad in my book, was downloaded over 5,000 times on an average. Goes to show, people like free music or tastes have become more eclectic and open over the years.
01/31/2011 - Finished the arrangement for a new song called "dbc0ps1". It's a creepy, electronic/industrial song I made up - totally improvised in one take, using some synth instruments. The main part is done. now I'm going to add live drums, no editing, no fixes and just stamp it and release it to Tunecore. My plan is to have everything on tunecore, going to itunes by the end of March, the latest.
01/18/2011 - Completed a draft for a song using ThumbJam iPod touch app, and playing live drums, added in some Morphwiz as well and now I'm using Ableton sound processing, some plugins and will come up with something new.
01/14/2011 - Completed a new song called natural_companion using only 3 tracks. One was a drum track randomly generated in Ableton Live, the other two were played live on my iPod touch using the apps Morphwiz and Bloom (a Brian Eno app). All done in one take, no editing, no quantizing. It was so simple and it came out pretty well. This will end up on the next release.
01/03/2011 - It already started out a great New Year. An old friend and bandmate, Jon DeMichael (see link to his site in my "Media" sections), agreed to provide vocals on my track "One Tribe".  He's a great songwriter, musician and vocalist - there's no doubt his contribution will make the song, because right now, it's just drums with no real melody, nothing to bind it together to be interesting. Keep in mind, I'm not a real songwriter and I don't have  experience on other instruments to do it, so this will really set the stage for my next release. It will also force me to finally get it together and put it out there on iTunes when it's done. 
12/29/2010 - Wrote lyrics for "One Tribe" in english and translated into Swahili and basic Yucatek language. I'm hoping to verify the validity of the translations and find a singer to do it for me as I really can't sing. This should be interesting...
12/28/2010- Wrote 2 new songs both emanating around a combo of southeast asian woodwind parts with latin and jamaican bass and latin beats. Then, I threw in some sick industrial pads and synth parts/hits. I haven't decided what to call it but it's interesting. Next task is to somehow put some live percussion over it just as an added flavor. I'm tempted to throw in some german opera samples if I can find them. the result will probably be a mess, but hey, why not...
12/08/2010 - Sold or threw out anything I didn't need for complete production. That means speakers, amps, USB controllers, and misc hardware that was old and not useful. Now I'm just using all you need to make it happen: a Macbook Pro with 4 GB of RAM 500 GB internal drive, 2 500 GB externals on FW 800. one M-Audio Firewire 810 interface, one M-Audio Keystation 72 (full keyboard), Roland VPro TD-20 drums (pictured in the media section), and for software, all I use is Ableton Live and lots of plugins from free sources. and the open source editor called "Audacity" (Linux, Mac, Windows and whatever) available at Audacity: Free Audio Editor and Recorder. Simple is always good, and the less you have to manage is better, especially if they are creative tools that can be infinitely expanded such as Ableton and the tools you get with the plugins and your own mac.  Like a good Buddhist, I wish for nothing more. LOL. Anyway, I'm on target to have a bunch of songs done by year end and will hope for the best with TuneCore's migration to iTunes.
12/02/2010 - Reworked my keyboard setup and added some free plugins from CM : "Computer Music" magazine. The preset reverb patches are amazing and withthe power of Ableton presets on top of it, I was able to make some interesting parts for some new songs I will release by the end of the year. It's quite incredible how with some tech changes, it can totally alter your sound and bring out something new, keeping in mind, I'm not a real keyboard or piano player. 
11/23/2010 - Worked on the the final touches to a new song called "Connection Silence" (used to be another name) which is a very real and honest recording of the past to present while the song was being recorded and mixed. It was actually changed in title midstream, and the final mix was changed to remove the original theme.